Jurassic World: Dominion Dominates Fandom Wikis - The Loop
Play Sound
So you've need health or you own some seeds? Let us do some farming.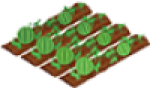 Right now there are six types of crops you can farm, more could be added, so who knows how many more types of seeds there will be. As of the March 2020 update, three new seeds where added to the shop.
You can find the seeds in Loot Boxes and in the RPG Shop. Right now, Bean, Coffee and Corn seeds are not in Loot Boxes. Also Coffee seeds can only be bought weekly.
Seeds are found on page 1 of your inventory [@Neko Chan#7837 rpg inv] or [@Neko Chan#7837 rpg inv seed].
While farming you will use a lot of Stamina, so you need to keep your eyes on it.
Seeds
| Seed name | Command |
| --- | --- |
| Bean | @Neko Chan#7837 rpg farm bean |
| Beetroot | @Neko Chan#7837 rpg farm beetroot |
| Coffee | @Neko Chan#7837 rpg farm coffee |
| Corn | @Neko Chan#7837 rpg farm coffee |
| Potato | @Neko Chan#7837 rpg farm potato |
| Pumpkin | @Neko Chan#7837 rpg farm pumpkin |
| Rice | @Neko Chan#7837 rpg farm rice |
| Watermelon | @Neko Chan#7837 rpg farm watermelon |
| Wheat | @Neko Chan#7837 rpg farm wheat |